Classified Document Recycling
Now is the time not only for safely disposing of classified documents but also making sure they are recycled.

We have staff exclusively in charge of transporting the classified documents using trucks mounted with GPS tracking devices. Sealed in a cardboard box, the classified documents are dissolved and recycled into toilet paper, leaving no worry of information being leaked to the outside.
Advantages of Our Classified Document Recycling System
This recycling system offers benefits both in terms of security and recycling with its "SS-security box". What is more, it can help you reduce the labor associated with removing staples and shredding the documents yourself.
World-Class Security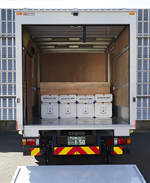 Reliable Recycling with a Low Environmental Load
1) Sealing with a specially-designed sticker
2) GPS vehicle tracking
3) Dissolution and recycling in an unopened condition
We keep our clients' documents completely protected from initial collection to final treatment.
Reliable recycling with a low environmental load
Up until now, classified documents were disposed of through shredding or incineration which either damaged the paper fibers by cutting them or released CO2 gas through combustion. This made recycling impossible. However, the SS-security box service uses a new method to dissolve papers. Paper fibers are maintained and no CO2 is emitted, allowing for reductions to the burden placed on the environment.
・ No need to remove clips, staples, files, etc.
・ Same-day disposal without transshipment or temporary storage
・ Dedicated trucks with two people on duty
・ Same-day issuing of completion certificate
The Process Behind our Classified Document Recycling System
For our classified document recycling system, we have introduced the latest equipment and make sure our staff attend to their duties with full attention, in order to provide our clients the most reliable recycling services.
Sealed, Individual-Handling Using an Exclusive Bar Code

Every cardboard box is sealed individually using a special sticker with an exclusive bar code and managed by our monitoring system. All procedures are managed one box at a time.
GPS Vehicle Tracking

During transportation of the classified documents, trucks are monitored by GPS. The transportation route and times are recorded and monitored in real-time. This information is matched with the data for each box and recorded.

Security Guard on Duty for Cargo Protection

There are two staff with personal identification that come to collect your classified documents. One receives the boxes, the other guards them.

Recycling in an Unopened State

The boxes are sealed with a specially-designed sticker and dissolved as is. After being loaded into trucks, the documents are taken directly to the plant for recycling. There is no transshipment or temporary storage.

Feel free to contact us or request materials
Zero-Emission Recycling HAMADA Co., Ltd.