Company profile
Company name

HAMADA Co., Ltd.

Representative

President Tokusuke Hamada

Capital

31.2 million yen

Established

November 8, 1973

Location

Head Office 569-1123 2-24-5 Akutagawacho, Takatsuki City, Osaka
Tokyo Office 107-0052 2F Miraikankyosouzou Bldg,, 4-4-14, Akasaka, Minato-ku, Tokyo
Osaka Recycle Center 569-0844 3-8-6 Hashiramoto, Takatsuki City, Osaka
Tokyo Recycle Center 132-0025 5-19-8, Matsue, Edogawa-ku, Tokyo
Keihinjima Eco-Logistics Center 143-0003 2-7-5 Keihinjima, Oda-ku, Tokyo

Sales

2.3 billion yen (as of July 2015)

No. of employees

100 (75 men, 25 women)

Average age of full-time employees

36


Affiliated companies

Okagami Co., Ltd. (wholly-owned subsidiary)
---
Employee benefits
Full social health insurance (employment, health, worker's compensation, pension)
Retirement allowance
Leased company housing
Recreation center
Support for self-development and acquisition of qualifications
Company mutual aid society
Congratulatory/condolence money
Yearly paid vacation (max. 40 days per year)
Regular health checks
Special paid leave (weddings, periods of mourning, before and after childbirth, child-raising, caregiving, etc.)
Company vacations
Sports club corporate membership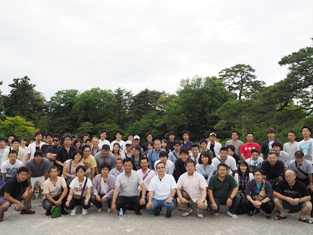 ---
Company Philosophy
Sincerity, Appreciation, Inspiration
Sincerity

We do not believe in only making money for ourselves. While following the law is a matter of course, we also believe in the 5 goods, "good for the seller, good for the buyer, good for society, good for the worker, and good for nature", and strive to be sincerely involved with each one.

Appreciation

Our job is to provide a new role for the planet's limited resources and products which have already fulfilled their initial mission. Never forgetting this feeling of appreciation, we aim to reuse and recycle these items in order to bring them back to life.

Inspiration

In carrying out our job, we want to inspire as well as be inspired by our customers. For this purpose, we aim to provide our customers with value not only based on price and challenge ourselves day in and day out to add something that exceeds their demands.
---
Management vision
Making "Sincerity, Appreciation, and Inspiration" our motto,
we aim to be the company our customers contact first for their environmental solutions.
When encountering an environmental problem, we hope to be the type of environmental solutions corporation that will make you think "I should call HAMADA!". This is the reason for developing our business operations under the motto of "Sincerity, Appreciation, Inspiration".