Try, Learn, Support
This is the principle behind our employee education at HAMADA, and we have put various systems in place to help accomplish this.

Our system for raising the next generation of managing directors: Junior Board (A virtual board of directors)
In working to achieve HAMADA's goal of cultivating 10 new managing directors, this system selects employees in there 20's and 30's to take on the role of management and come up with innovative ideas for the company. Up until now, proposals have come from the employees themselves for new business ventures and the building up of internal operations from scratch. In addition to general indicators such as "profit" and "market growth rate", new proposals are commonly made based on how interesting the idea is.

Letting each employee's uniqueness shine: Our human resources system
In order for HAMADA to pursue various new business ventures, it is essential that our employees consist of a diverse array of unique characters. For this reason, HAMADA places emphasis on individuality when selecting its employees and has prepared an HR system to make sure our employees flourish. We have also drawn up a HAMADA HR Policy and value "employees who, through work, create their own career and take pleasure in the process".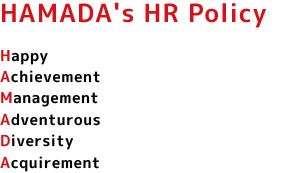 Aim to be the person you want to become: Development management
This system is set up to support employees with a variety of career goals, such as becoming a managing director, learning to manage junior staff, or working to be a master of one's field. While not complete, we have put in place various systems such as a "President Cram School" for those who want to become managing directors, a "Section Chief Cram School" for management positions, and "Professional Training" for those who want to be a specialist in their respective field.